A service-driven approach will move the network beyond connectivity. Are you moving with it?
Transition to a Virtual Network
Fast-track service agility, innovation and delivery using open source, partnerships and AI
Realize & Monetize 5G Networks
Transition to 4.9G and 5G with business-driven network densification and deep analytics
Efficiently Operate Hybrid Networks
Blend operations across hybrid, physical and virtual networks. Cut average design cycle time by 93%
Deliver Autonomous Network Operations
Augment your network operations and pave the way to a smart autonomous network
Accelerate Network Rollout
Accelerate network rollout up to 40% and cut costs up to 35%
Today, the network delivers a service in a pre-defined, pre-programmable way. But it's time to think beyond simple connectivity.
The service-driven network approach harnesses a comprehensive set of capabilities that sit between the traditional network and the business support layers, enabling service providers to:
Rapidly deploy and optimize the network to deliver the services customers expect
 
Flexibly create and launch new services across a broad ecosystem of their own and partner capabilities
 
Accurately and reliably operate and assure services on the network, accounting for the end-to-end service context
Amdocs has a deep set of network, IT, cloud and analytics capabilities that allow service providers to realize a service-driven network, including:
Automation-powered network densification, rollout and optimization solutions
 
Dynamic programmable network and network-as-a-service mechanisms
 
Data-driven intelligence & automated network operations technologies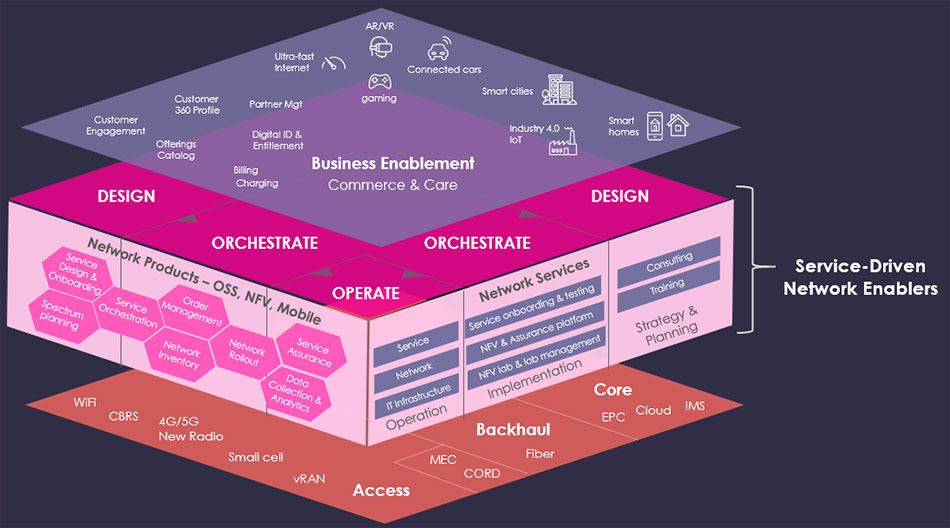 Click image for full size >>
Vendor neutral
Vendor-neutral approach includes open tools and processes, 50+ partners and growing
Cross-domain unified
Integrate network, IT, cloud to abstract network complexity and enable end-to-end services
Automated efficiency
Orchestration, analytics-driven automation and integration mean agile delivery, enhanced experience
BSS-OSS integration and catalog-driven fulfillment
Integrate data among products, services and processes, and across BSS and OSS
LEARN MORE
video
Amdocs NFV SD-WAN package
Simplify and accelerate your journey towards managed SD-WAN & VAS services
solution overview
NETWORK VIRTUALIZATION IS A KEY ENABLER FOR 5G SERVICES MONETIZATION
A joint solution from Amdocs, Intel, Mavenir, Radisys and Wind River
case study
Bell has industry-first ONAP deployment
Learn how Bell pioneered NFV adoption through its partnership with Amdocs
infographic
Approaches to network virtualization. Are you considering open source?
Service provider and analyst views on approaches to NFV and the role of open source
analysis
Amdocs ups the ante for service assurance
Discover what IDC says about Amdocs Autonomous Service Assurance
podcast series
The state of DevOps
Learn from the experts – approaches, obstacles, impacts and benefits:
Why DevOps Matters
CI/CD Primer
Why CD Works
Tech as an Enabler: Tools & Automation
DevOps Processes
Bi-Modal Delivery
Transformational Leadership
video
Hybrid inventories: how will physical and virtual inventories align?
An ONAP discussion with Appledore Research
analysis
What are the inventory transformation challenges?
Hear perspectives from Appledore Research
case study
A strategic inventory modernization
A leading European tier-1 operator modernizes its inventory system to accelerate a massive network upgrade and prepare for 5G
white paper
Virtualizing the RAN
How mobile network evolution lays the foundation for 5G