WHY AMDOCS?
At Amdocs, we use our imagination to design a better future and our experience to deliver it. It's innovation in practice.
Our Intellectual Property
Over the past three years, we've tripled our number of patents, placing us in the top 1,000 U.S. company patent owners. Our patents spread across many domains in areas like NFV, artificial intelligence, IoT, operations support systems and business support systems.

Our Delivery Approach
The implementation of DevOps for our customers is no easy matter. It requires a deep understanding of the entire ecosystem, including backbone applications that must be seamlessly integrated with new innovative solutions. This is where we see the Amdocs advantage. Our comprehensive knowledge of the ecosystem, data models and innovative digital offering – combined with DevOps capabilities – provide our customers with the right solution, with full accountability.

Through our technologies and practices, we run projects with compelling results:
Deployed full consumer digital stack within 4.5 months
Increased release frequency from 3 to 7 times a year
Achieved 20% improvement in time to production
Reduced defect density by up to 40%
Realized ~30% reduction in escaping defects
Reduced time from ideation to production from 7 to 4 months
A Design-Led Organization
Our unique approach to problem solving uses design thinking while focusing on the human aspect. With design-thinking embedded into our processes, we begin with the needs of the end users as a first step to achieving the solution. Design-thinking methodology supports our customers with valuable new insights about the needs of their customers.

An Open Ecosystem
We leverage best-in-class, open innovation practices and methodologies, working with a broad ecosystem of partners, ranging from promising start-ups, well-established organizations, leading academic institutions and Amdocs customers to explore new domains and technologies. By embracing openness, we deliver more value to our customers and partners, faster.

Flexible with cloud
We provide support for all cloud deployment models (private, public, and hybrid) in addition to our cloud-agnostic policy, catering to all major platforms.

Unmatched in Hybrid Environments
Analysys Mason found that 91% of communications and media service providers believe that operating cloud-native systems alongside traditional ones will be a critical challenge. Amdocs offers an award-winning, industry-proven NFV and hybrid network solution and approach, designed to help you make a smooth transition to hybrid network operations.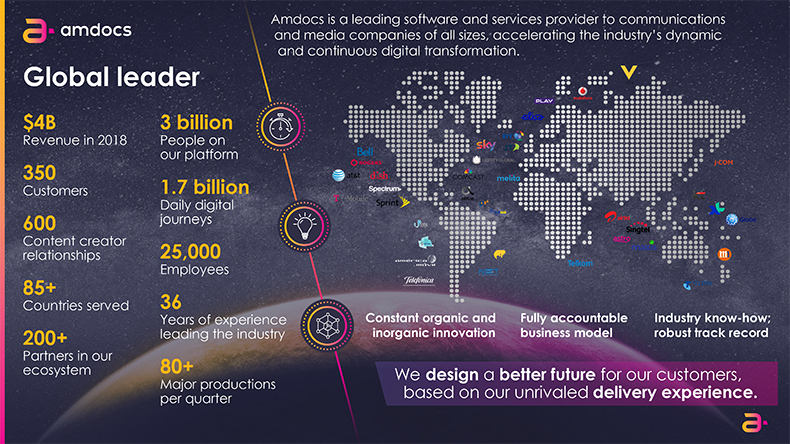 Amdocs: A Global Leader
A Content Play Unlike Any Other
With technology and distribution ties to over 600 content creators, Amdocs is uniquely positioned to help communications and media providers monetize premium content effectively.

Center of Excellence
The Amdocs Innovation Center of Excellence addresses business challenges, creates an innovation culture, and emphasizes the importance of innovation execution.

Demonstrated leadership across the Amdocs business
Analyst reports highlight Amdocs' continued leadership in digital transformation, network virtualization and agile operations.
 
Amdocs named as a leader in Gartner's 2019 Magic Quadrant for Integrated Revenue and Customer Management and Operations Support Systems.
 
Amdocs won Leading Lights' 2018 Company of the Year (Public) award, a prize that recognizes "the publicly listed firm that stands out from its competitors, innovates constantly, makes investors proud, and makes employees happy."
Creating a new world of experience
The future is inspiring. Let's go there together.